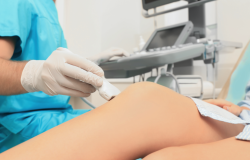 Posted on January 15, 2018 by Vein Admin in dr joseph magnant, fort myers, sarasota vein specialist

Outside of the visual appearance of bluish-purple colored raised veins the most widely used and accurate method of diagnosis is the duplex ultrasound which can pinpoint underlying vein conditions. Ultrasound is performed by a registered vascular technologist who can find precisely where the leakage is occurring. From there, an effective and logical treatment plan can […]

No Comments. Continue Reading...