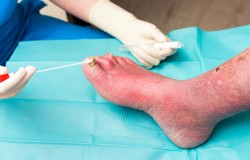 Posted on December 14, 2015 by Vein Admin in Associated conditions, dr joseph magnant, varicose veins

Most of us think of varicose veins as a singular issue, but when left untreated not only are they unsightly but they can be very painful and lead to a whole wide range of further medical complications. One off shoot complication of poor circulatory performance can be stasis dermatitis. Stasis dermatitis is a painful and […]

No Comments. Continue Reading...