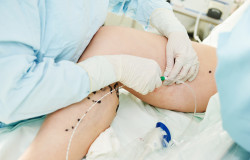 Posted on December 11, 2015 by Vein Admin in dr joseph magnant, Endovenous Radio Frequency Ablation, vein screening, venous insufficiency

If you are experiencing issues with your legs feeling tired, heavy, weak, achy, cramping, you have restless leg syndrome or have pain on a constant or ongoing basis you may have a venous insufficiency issue. Visiting a vein specialist and having a complete screening is recommended. If at that time your doctor sees that you […]

No Comments. Continue Reading...