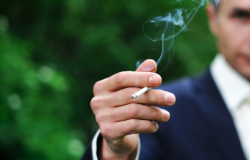 Posted on August 14, 2017 by Vein Admin in venous insufficiency

If you're a cigarette smoker, you may want to stop for a moment and consider the effect it's having on your cardiovascular system – particularly, your heart, arteries and vein health. According to the National Heart, Lung, and Blood Institute, cigarette smoking causes one out of every five deaths in America each year. It's considered […]

No Comments. Continue Reading...