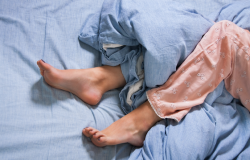 Posted on March 26, 2018 by Vein Admin in Associated conditions

If you deal with Restless Leg Syndrome you know trying to get to sleep at night can be trying. You may just about be asleep and zap… your legs jerks on its own accord, waking you up again. Repeatedly. Uncomfortable and irritating are the least of the adjectives you can use to describe the sensations. Restless […]

No Comments. Continue Reading...